NNPA FELLOW
---
JASMINE FRANKLIIN
Jasmine Franklin is an award-winning journalist passionate about adding diversity to the media industry. The Chicago-area native has experience in reporting, editing, and video. She is currently a rising senior studying mass communication at Grambling State University with a concentration in broadcast journalism. Jasmine made history her sophomore year by becoming the youngest Editor in Chief of The Gramblinite newspaper, a student-run paper distributed once a week. Aside from working in print journalism at Grambling State University, Jasmine is involved in the university's radio and television program. She has interned with the Chicago Sun-Times, Coca-Cola, The Walt Disney Company, and WVON 1690AM radio.
Jasmine's post-graduation plans include working behind the scenes in a television newsroom as a writer or producer. Her goal is to give underrepresented communities exposure in the media.
---
DISCOVER MORE ABOUT CHEVROLET
ALL-NEW BOLT EUV
Bolt EV combines compact styling with fully electric capability to fuel all your journeys.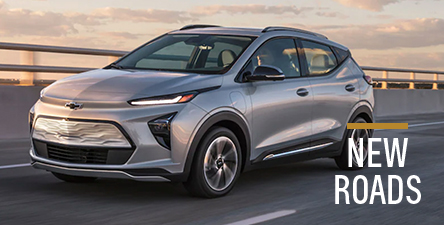 EXPLORE NEW ROADS WITH US
New Roads is devoted to those who want to discover more. Read stories of newly revealed vehicles, technology how-tos and Chevy owner profiles.