Team Young at Heart
Route: Washington, DC > Chicago, IL > Detroit, MI
---
Sharon Washington
A recent graduate of Florida A&M University's School of Journalism, Sharon's career goal is to become an executive producer and aid in diversity and universal representation within mass media platforms. While at school, she interned with CBS Channel 6 WCTV News in Tallahassee, Fla, with NBCUniversal at the 2018 Winter Olympics, and Universal's Will Packer Productions in Los Angeles, CA. Sharon's passion for storytelling has ranged from producing live news shows to narrative feature documentaries. When she's not pursuing her professional passions, she also enjoys motivational blogging and event planning.
---
DISCOVER MORE ABOUT CHEVROLET
ALL-NEW BOLT EUV
Bolt EV combines compact styling with fully electric capability to fuel all your journeys.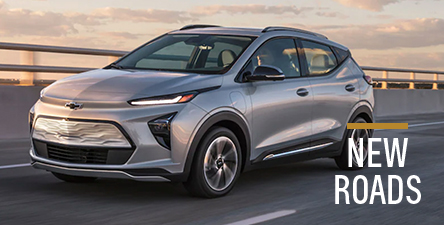 EXPLORE NEW ROADS WITH US
New Roads is devoted to those who want to discover more. Read stories of newly revealed vehicles, technology how-tos and Chevy owner profiles.