Hello Chicago!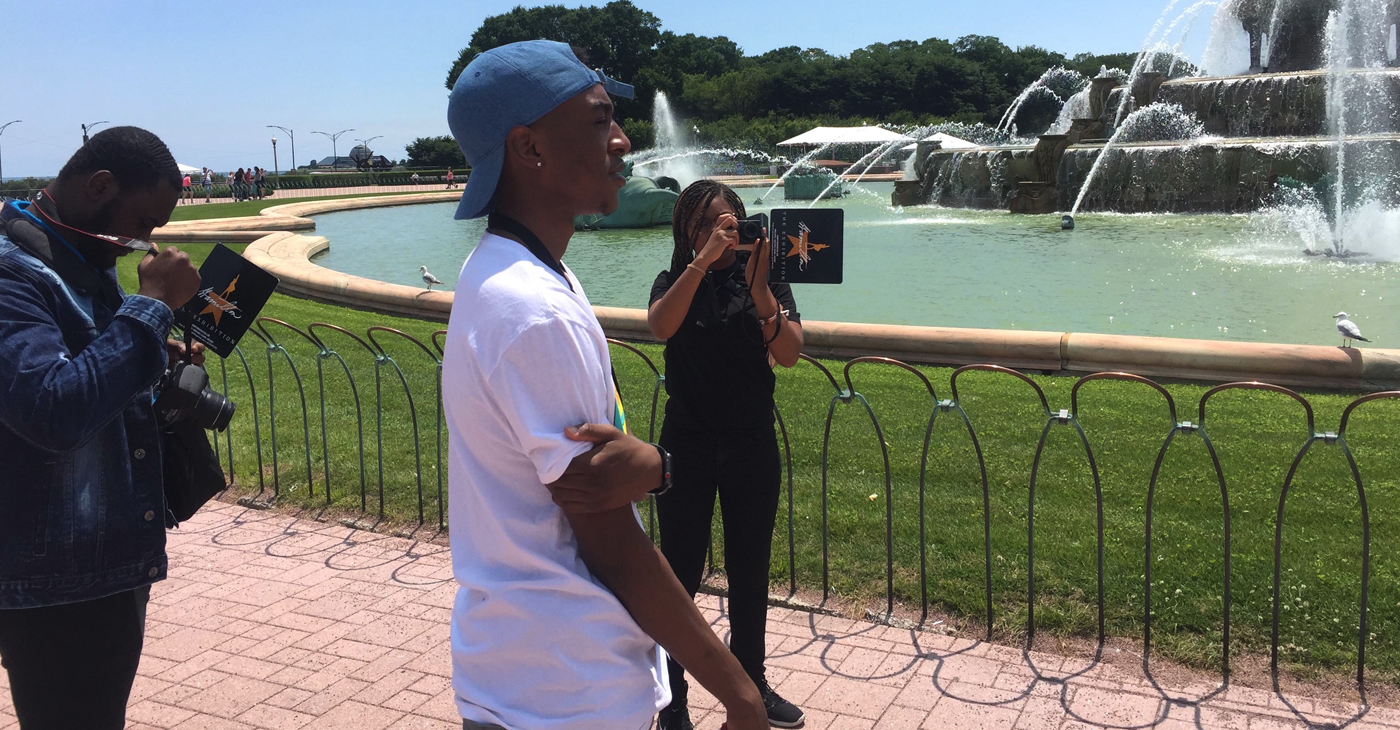 By Elae Hill
Figuring out your dreams before college life ends is the biggest stress for any undergraduate. I chose multimedia journalism as a career path because I feel that I would rather work with English for the rest of my life than math or any other subject.
My dreams are to work within the entertainment industry as a host, or within the music industry, helping behind a content creating team with public relations roll outs for artists. With my first two years completed at North Carolina A&T I have had on-campus experiences pertaining to writing news, interviewing and developing journalism skills. But I've never had the opportunity like the one Chevy Discover The Unexpected has given me this summer, to not only travel the country and develop genuine connections, but to also learn about our Black communities and the triumphs and downfalls that occur within them, that are rarely shared on a broader scale in the mainstream media.
I've previously been unsuccessful in obtaining an internship. This is my first. The Chevy DTU internship is the opportunity I needed to propel my enthusiasm in this field and to figure out exactly what I want to do in life.
Being selected for this fellowship along with five other teammates was very exciting for me. From the start, we were flown out of the states we currently reside in and treated like family once we arrived in Atlanta. Boot camp was one of my funniest moments because the experience of being on camera and acting is a job I can see myself doing in the future. We were placed with a great production crew, great Chevy DTU employees and our ambassadors, who told us this would be a trio of a lifetime.
After boot camp, the teams split up; Team Igneous stayed in Atlanta for a month and my Fellows and I headed over to Washington, DC. Before that we stopped in Greensboro, NC where we covered the "Green Book" info at the Magnolia House, which was a story we carried over to Washington, DC as well.
The importance of the story merited a carry-over because not many people know about the importance of the "Green Book" and why it's necessary that we value and never forget the times when it wasn't possible for African American people to travel comfortably throughout different states. Our road trips have been a lot of fun, traveling through different cities and just getting the chance to explore is an opportunity a lot of students wish they could have as interns.
Our time at the Washington Informer was my first eye opener to the newspaper industry pertaining to the Black community. DC is filled with a lot of historic landmarks, so the Fellows and I had plenty of sightseeing to conduct.
The Washington Informer's main focus was to increase our broadcast skills. There the work day consisted of working in front of the camera, doing real world interviews, as well as developing features and TV packages to which we could attach our names. The experience of covering movie premieres, and museums like the National Portrait Gallery and the National Museum of African American History and Culture is an experience none of us will forget.
Ending our time in Washington, DC on a good note and wrapping up the "Green Book" story, we left and headed to Chicago to work with the Chicago Crusader. The drive to Chicago from DC was nearly 13 hours so we made an overnight pit stop in Cleveland, Ohio, a state I've never been to before. We then made our way to the third largest city in America, Chicago, Illinois.
Our first day going out into the city was nothing short of delightful. Seeing the major restaurants and hotels that the city is known for, shopping areas, the Bean, the crowds of people on the move, the lake view and of course the feature that makes the city of Chicago, the skyscrapers. We also got to see historic landmarks located around the Chicago Crusader, like former President Obama's private home, Emmit Till's house, and other notable monuments.
As we spend a month in Chicago, we want to experience and learn as much as we can about the history of the city. I wish, and I know my Fellows wish to thrive and  progress in this journalism field, and to acquire knowledge for hard news in the Black community and why it's important that those stories are shared as well.