Team Ingenious
Route: Atlanta, GA > Houston, TX > Detroit, MI
---
Miana Massey
A recent graduate of Howard University where she studied mass communication and business administration, Miana hopes to be a voice for change and serve as a liaison between minority communities and traditional media outlets. Her passion for broadcast news developed after witnessing the media's immense power to shape, develop, and drive stories during the aftermath of Freddie Gray's death in her hometown of Baltimore, Maryland. This drove her to gain experience in entertainment, political, and traditional news while interning for various media outlets, political studying abroad in Cape Town, South Africa. As a female journalist of color, Miana believes it is her duty to produce true and accurate stories that are relevant to her community.
---
DISCOVER MORE ABOUT CHEVROLET
ALL-NEW BOLT EUV
Bolt EV combines compact styling with fully electric capability to fuel all your journeys.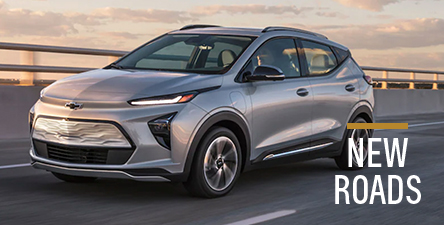 EXPLORE NEW ROADS WITH US
New Roads is devoted to those who want to discover more. Read stories of newly revealed vehicles, technology how-tos and Chevy owner profiles.